Whether you need to budget for shipping, or figure out what countries you can ship your rewards to, Easyship's dedicated crowdfunding team can help you. Through Kickstarter's affiliation, you will benefit from waived membership fees, free consulting, greatly discounted shipping rates and upgraded options for your backers, as well as shipping credits for qualifying campaigns.
You can reach out to Easyship at any stage of your project to feel confident about your shipping options. When logged in to your Easyship account, simply select "Book an Onboarding meeting" to schedule a consultation with an account manager. You can also click the "Support" button at any time to email, call, or live chat with their team. Additionally, check out their help center for more information.
Their team is experienced in supporting crowdfunding campaigns of all sizes. We recommend you check out their Collect feature, which allows you to confirm shipping address and charge backers for shipping options of their choice whenever you are getting ready to ship.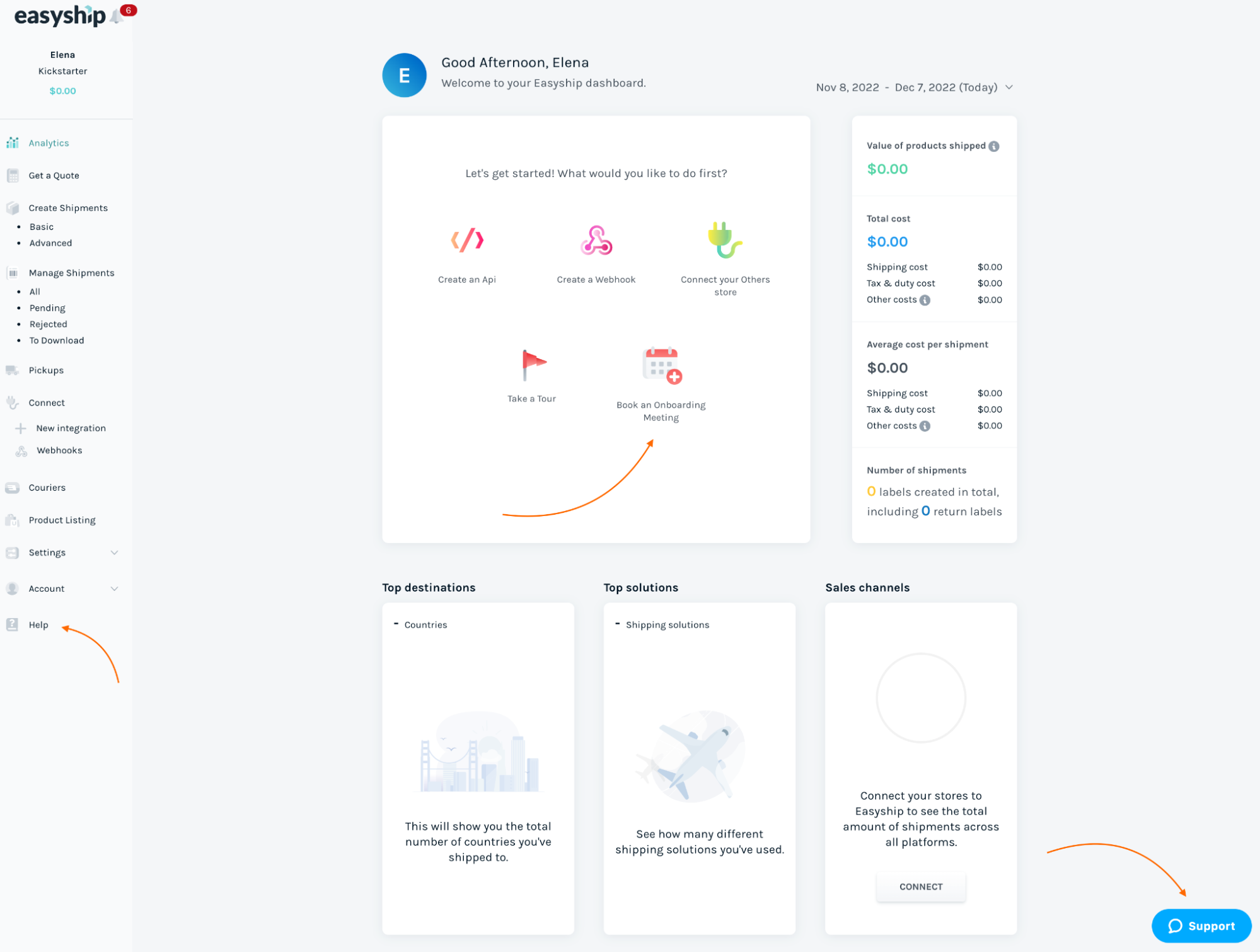 Once your campaign has successfully concluded, here are the steps to get your backers into their system easily. Keep in mind that Easyship has dedicated account managers to help you through every step of the way, don't be shy to reach out if you have any questions.
Step 1: Get your pledges ready for shipping
Send out your Kickstarter survey to collect addresses, and anything else you may need from your backers. Once shipping addresses have been collected, you are ready to transfer orders to Easyship following a couple of quick steps.
Step 2: Transfer pledges to Easyship
For the smoothest process, Easyship recommends adding your rewards and add-ons to the

Product Listings page

on your Easyship Dashboard prior to uploading your pledges. This way your orders will be mass updated when importing your pledges with all relevant information needed.

Important: For 'Product Description' use your reward or add-on name.

Once you have collected shipping addresses, go to the backer report page, and click on "Export backer report".

The first filter should remain on the default option 'All reward tiers - one file', or if not all of your rewards require shipping, you can also download reports for the rewards you'd like to ship and upload them individually.

For the format, select 'Easyship - quotes/shipping labels'.

Once you have successfully downloaded the report, head over to Easyship via our affiliate link to receive free access:

https://app.easyship.com/kickstarter/signup

Complete the signup flow and once on your Easyship Dashboard, click on "Create Shipments" on the left hand navigation.

Next, select 'Import from file' on the 'Add shipments' options on the header of the shipments page, or simply click here to get there directly:

https://app.easyship.com/advanced/file-upload

Drop your report(s) on the upload field and you're done with the transfer. Congrats, your pledges are now in Easyship ready to be processed! Please note that the upload can take a moment if you have a large number of backers.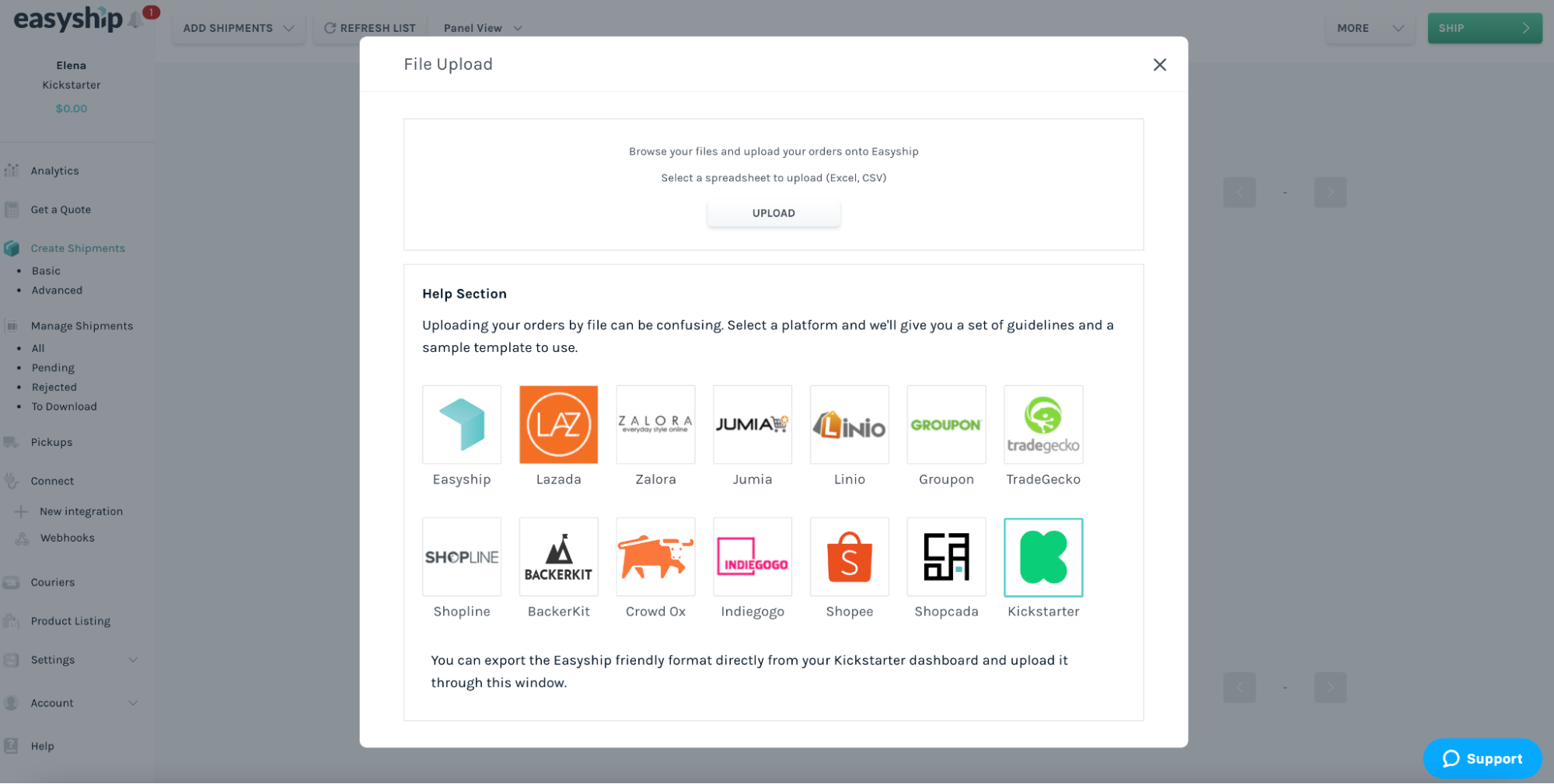 Step 3: Getting ready for shipping
Make sure that all of your pledges have been synced with Easyship by following the steps above.

You can then easily bulk update your reward dimensions once your pledges are loaded into your Easyship dashboard. Click on the 'Filling-in your product dimensions' prompt on your shipment page to add.

How does Easyship work for backers?
When a reward item is shipped through Easyship, backers will automatically receive an email with the tracking information for their shipment, which will allow them to keep track of when their reward is estimated to arrive.
If you are running a large campaign, with 500 backers or more, and you'd like to offer more options for your backers, such as the ability to upgrade their shipping selection, pre-pay import taxes, or add insurance to their shipment, you can do so by registering to use Easyship Collect, this feature is currently available for qualifying campaigns with 500 or more backers. We are working on extending this benefit to all creators soon, stay tuned for updates! To get access to this feature, reach out to your Easyship's Account Manager who will guide you through every step of this process.